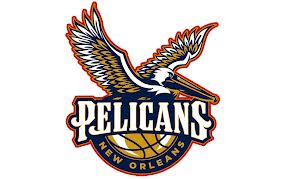 The
New Orleans Pelicans
are a professional
basketbal
l team based in
New Orleans
,
Louisiana
. They play in the
Southwest Division
of the
Western Conference
of the
National Basketball Association
. The franchise began play during the
1988–89 NBA season
as the
Charlotte Hornets
, based in
Charlotte, North Carolina
, where they were located for fourteen seasons. Following the
2001–02 season
, the team relocated to New Orleans, becoming the
New Orleans Hornets
. After three seasons in New Orleans,
Hurricane Katrina
forced the franchise to
temporarily relocate
to
Oklahoma City
, where they spent two seasons officially known as the
New Orleans/Oklahoma City Hornets
. The Hornets returned to New Orleans full-time for the
2007–08 season
before changing its name to the Pelicans at the conclusion of the
2012–13 NBA regular season
.
[1
In 25 seasons of play, the Pelicans have compiled an overall regular season record of 961-1,023, and have qualified for the post-season 12 times. Their achievements include five playoff series victories and one division title.
2013–present: The Pelicans
New owner Tom Benson had indicated early in his ownership that he wished to change the team's name to something more local, with his preference being a return of the name "Jazz" to the city (the city's former NBA team, the New Orleans Jazz, long ago moved to Salt Lake City and became known as the Utah Jazz). However, Utah indicated they had no interest in returning the name due to over 25 years of history associated with it, including two Finals appearances.
Benson had also heavily favored the names "Brass" and "Krewe" but on December 4, 2012, it was reported that the Hornets will be changing their name to the New Orleans Pelicans beginning with the 2013-2014 season,[1] after Louisiana's state bird, the Brown Pelican.[22] The name Pelicans had previously been used by a minor-league baseball team that played in New Orleans from 1901 to 1957. These reports were officially confirmed on January 24, 2013, when the Hornets officially announced said name change and unveiled accompanying logos and a blue, gold and red color scheme.[1] On April 18, 2013, after the end of the team's 2012-13 season, the team's name was officially changed to the Pelicans.[2]
Following the New Orleans franchise's 2013 relinquishment of the "Hornets" name, on May 21, 2013, Charlotte Bobcats team owner Michael Jordan officially announced the organization had submitted an application to change the name of his franchise to the Charlotte Hornets for the 2014-15 NBA season, pending a majority vote for approval by the NBA Board of Governors at a meeting in Las Vegas, Nevada on July 18, 2013. NBA Deputy Commissioner and COO Adam Silver had previously pointed out that the fact that the league owns the rights to the
New Orleans Pelicans Roster
| Player | # Number | Position |
| --- | --- | --- |
| Anthony Davis | 23 | Forward-center |
| Greivis Vasques | 21 | Point guard |
| Eric Gordon | 10 | Shooting guard |
| Austin Rivers | 25 | Guard |
| Brian Roberts | 22 | Guard |
| Robin Lopez | 15 | Center |
| Ryan Anderson | 33 | Power forward |
| Al-Farouq Aminu | 0 | Small forward |
| Jason Smith | 14 | Forward-center |
| Louis Amundson | 17 | Power forward |
| Darius Miller | 2 | Forward |
| Xavier Henry | 4 | Shooting guard |
| Lance Thomas | 42 | Power forward |
| Roger Mason, Jr. | 8 | Guard |
| Edin Bavcic | | Power forward |