NBASPORTS is all about nba, and other basketball. we put new information, upgrade the news, and create new pages everyday, so be sure to check on our webesite at NBAsports Wiki, and coud stay any time you want.
Dfvita the founder of NBASPORTS Wiki has began creating pages since june 21, 2013 and have worked allot of hours and seconds trying to make his living, and needs help ceating new pages, but you can't edit any pages that Dfvita has created because he has blockedit, do spoilers won't put wrong information about NBA. We have edited more than 500 edits since june 21, 2013
I. DFvita has created more than 100 pages since he joined wikia community, and love making more pages, and editing more pages. I don't know that much. so I am asking for your help if needed. if you want to be my admin. on this wiki, just tell me by leaving a comment on my home.(this is a featured Article on NBASPORTS Wiki .... look below)
Featured Article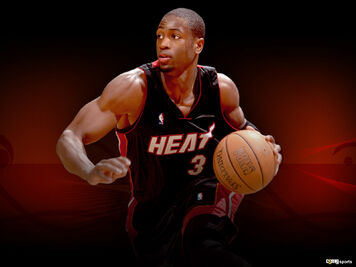 Dwyane Tyrone Wade, Jr. (born January 17, 1982), nicknamed Flash or D-Wade, is an American professional  basketball player who currently plays for the Miami Heat of the NBA. Named the 2006 Sportsman of the Year by Sports Illustrated, Wade has established himself as one of the most well-known and popular players in the league. He had the top selling jersey in the NBA for nearly two years, as he led the NBA in jersey sales from the 2005 NBA Playoffs, until the midpoint of the 2006–07 season.[1] His first name is pronounced /dwɛɪn/, the same as the more common spellings "Duane" and "Dwayne".
After entering the league as the fifth pick in the 2003 NBA Draft, Wade was named to the All-Rookie team and the All-Star team the following nine seasons. In his third season, Wade helped lead the Miami Heat to their first NBA championship in franchise history. He was named the 2006 NBA Finals MVP as he helped lead the Heat to a 4–2 series win over the Dallas Mavericks. At the 2008 Summer Olympics, Wade led the United States men's basketball team, commonly known as the "Redeem Team", in scoring, as they captured gold medal honors in Beijing, China. In the 2008–09 season, Wade led the league in scoring and earned his first NBA scoring title. He was part of Miami's second championship win in the 2012 NBA Finals, when Miami defeated the Oklahoma City Thunder. He won his third NBA championship in 2013, when the Heat defeated the San Antonio Spurs in the 2013 NBA Finals
Ad blocker interference detected!
Wikia is a free-to-use site that makes money from advertising. We have a modified experience for viewers using ad blockers

Wikia is not accessible if you've made further modifications. Remove the custom ad blocker rule(s) and the page will load as expected.