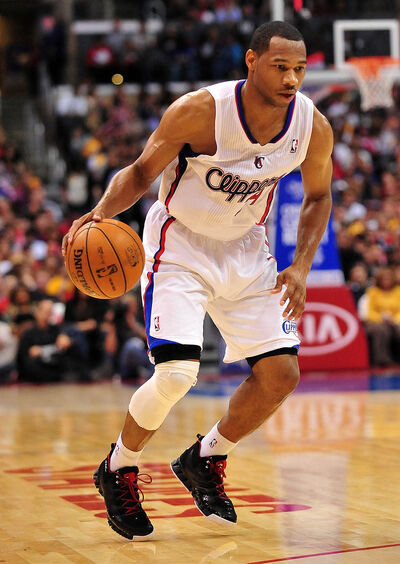 Willie J. Green (born July 28, 1981) is an American professional
basketball
player who plays for the
Los Angeles Clippers
of the
NBA
. He was selected in the second round (41st pick overall) of the
2003 NBA Draft
by the
Seattle SuperSonics
and later acquired by the
Philadelphia 76ers
from Seattle in a draft-night trade for the draft rights to
Paccelis Morlende
(50th pick overall) and cash considerations.
NBA career
Philadelphia 76ers (2003–2010)
Green was a 1999 graduate of Cooley High School; after a college career at the University of Detroit Mercy, he was selected by the Seattle SuperSonics in the second round (41st overall) of the 2003 NBA Draft. He was traded the same day to the Philadelphia 76ers for the draft rights to Paccelis Morlende and cash considerations.
Green was due to re-sign with the Sixers during the 2005 offseason, but suffered an injury the day of the contract signing, which put it in a temporary state of limbo. On March 23, 2006, he officially re-signed with the Sixers, and on April 4, 2006 he was activated and played 11 minutes, scoring 9 points on 4-for-6 shooting in a loss to the Cleveland Cavaliers.
Green, in the final Sixers game of the 2006–07 season, had a career-high 37 points against the Toronto Raptors on April 4, 2007.
Green beat out Rodney Carney for the Sixers starting shooting guard position. During the 2007–08 NBA season, Green had career highs in games played (74, all of them as a starter), minutes played (26.6), field goal percentage (.436), rebounds (2.5), assists (2.0), and points (12.4).
New Orleans Hornets (2010–2011)
Green was traded to New Orleans with forward Jason Smith in exchange for forward Darius Songaila and rookie forward Craig Brackins on September 23, 2010.
Atlanta Hawks (2011–2012)
On December 22, 2011, it was reported that Willie Green had signed a contract with the Atlanta Hawks.
Los Angeles Clippers (2012–present)
On July 30, 2012, Green was traded to the Los Angeles Clippers for the rights to Sofoklis Schortsanitis  On July 3rd 2013, the Clippers picked up their team option on Green for the 2013-14 season.
Awards
Midwestern Collegiate Conference All-Newcomer Team: 2000
Second Team All-Midwestern Collegiate Conference: 2001
Horizon League Scoring Leader: 2003
Horizon League All-Tournament Team: 2003
All-Horizon First Team: 2003
Horizon League Player of the Year: 2003
Honorable Mention All-America by AP: 2003
Portsmouth Invitational All-Tournament Team: 2003
NBA career statistics
Legend
  GP
Games played
  GS 
Games started
 MPG 
Minutes per game
 FG% 
Field goal percentage
 3P% 
3-point field goal percentage
 FT% 
Free throw percentage
 RPG 
Rebounds per game
 APG 
Assists per game
 SPG 
Steals per game
 BPG 
Blocks per game
 PPG 
Points per game
Bold
Career high
Regular season
| Year | Team | GP | GS | MPG | FG% | 3P% | FT% | RPG | APG | SPG | BPG | PPG |
| --- | --- | --- | --- | --- | --- | --- | --- | --- | --- | --- | --- | --- |
| 2003–04 | Philadelphia | 53 | 0 | 14.5 | .401 | .311 | .728 | 1.2 | 1.0 | .5 | .1 | 6.9 |
| 2004–05 | Philadelphia | 57 | 21 | 18.7 | .366 | .286 | .776 | 2.3 | 1.8 | .6 | .1 | 7.7 |
| 2005–06 | Philadelphia | 10 | 2 | 15.3 | .424 | .526 | .800 | 1.5 | .5 | .2 | .0 | 7.0 |
| 2006–07 | Philadelphia | 74 | 36 | 24.9 | .411 | .325 | .667 | 2.1 | 1.5 | .8 | .1 | 11.3 |
| 2007–08 | Philadelphia | 74 | 74 | 26.6 | .436 | .285 | .757 | 2.5 | 2.0 | .7 | .3 | 12.4 |
| 2008–09 | Philadelphia | 81 | 60 | 22.6 | .435 | .317 | .729 | 1.6 | 2.0 | .7 | .2 | 8.5 |
| 2009–10 | Philadelphia | 73 | 18 | 21.3 | .457 | .346 | .833 | 1.8 | 2.1 | .4 | .2 | 8.7 |
| 2010–11 | New Orleans | 77 | 13 | 21.7 | .443 | .348 | .780 | 2.1 | 1.0 | .5 | .2 | 8.7 |
| 2011–12 | Atlanta | 53 | 2 | 17.4 | .471 | .442 | .857 | 1.5 | .8 | .4 | .1 | 7.6 |
| 2012–13 | L.A. Clippers | 72 | 60 | 16.5 | .461 | .428 | .719 | 1.3 | .8 | .4 | .2 | 6.3 |
| Career | | 624 | 286 | 20.8 | .430 | .347 | .761 | 1.8 | 1.4 | .6 | .1 | 8.8 |
Playoffs
| Year | Team | GP | GS | MPG | FG% | 3P% | FT% | RPG | APG | SPG | BPG | PPG |
| --- | --- | --- | --- | --- | --- | --- | --- | --- | --- | --- | --- | --- |
| 2005 | Philadelphia | 5 | 0 | 12.6 | .444 | .222 | .900 | 1.8 | .6 | .2 | .0 | 5.4 |
| 2008 | Philadelphia | 6 | 6 | 23.7 | .431 | .200 | .643 | 1.3 | 2.0 | .8 | .7 | 9.0 |
| 2009 | Philadelphia | 6 | 6 | 24.7 | .412 | .364 | .333 | 1.0 | 1.2 | .0 | .2 | 7.8 |
| 2011 | New Orleans | 6 | 0 | 14.0 | .389 | .222 | .571 | .8 | .7 | .3 | .0 | 5.7 |
| 2012 | Atlanta | 5 | 0 | 12.6 | .462 | .250 | .000 | 1.6 | .6 | .0 | .0 | 2.6 |
| 2013 | L.A. Clippers | 3 | 0 | 6.3 | .667 | .000 | 1.000 | 1.0 | .7 | .3 | .0 | 2.0 |
| Career | | 31 | 12 | 16.7 | .424 | .256 | .694 | 1.3 | 1.0 | .3 | .2 | 5.8 |